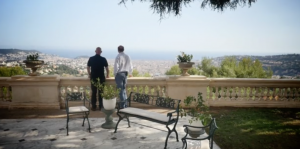 Nice, FRANCE – The Sky News Foreign Affairs Editor, Sam Kiley, visited Sergei Pugachev and his family to discuss the upcoming litigation process against the Kremlin, and the implications it has had on their lives.
Pugachev states: "It's not simple to be in my role, but I have to do it, and I am ready to face the consequences… I am fighting using legal methods, but I know we can't expect the Russian government to use legal methods as well. They [the Russian State] put immense pressure on me, expropriated all my assets in Russia and put unthinkable charges against me, this is the situation I am in today."
Earlier this year Pugachev and his family were forced to relocate to France fearing for their lives after suspicious devices were found under family's cars used in London. Now, Pugachev is locked in litigation with the Kremlin, preparing to fight off the value of expropriated assets worth $15bn at the Hague next month.
Kiley writes that those who fall out with the Kremlin have a hard time, giving examples of Boris Berezovsky and Mikhail Khodorkovsky.
Follow the link to read the article in full and watch the Sky News video report.